April, 2015: Breeze Issue #90
A Free Monthly E-Newsletter for Friends of Japan & Teachers of Japanese
Japanese Language Education Update #17: Advocacy is in the air!
by Amanda Rollins, Japanese Language Program Coordinator
Children's songs, manners, and business brochures! Our Real Advocacy Stories page has been updated with three new submissions from Yukiyo Moorman from Walt Whitman High School (MD), Aki Tsugawa from Chesterton High School (IN) and Professor Sadatoshi Tomizawa from Ball State University (IN). Check out the projects they do in and out of the classroom to showcase Japanese language and culture in their communities. You can also submit your own Advocacy Story to showcase the work you're doing for your language program! And don't forget: SPEAKJAPAN.org is a great tool to use while you advocate.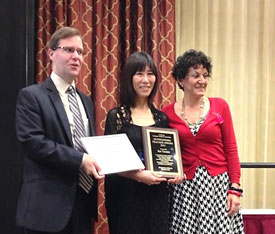 Advocacy was also afoot at the 2015 California Language Teachers' Association (CLTA) Annual Conference, held in Sacramento. Rie Tsuboi of San Dieguito Union High School was awarded a 2015 CLTA Outstanding Teacher Award, in part for all of the advocacy activities she organizes: speech contests, exchanges, Japan Bowl participation, and cultural events. Congratulations Tsuboi-sensei!
JFLA's booth was a big hit at CLTA this year as well. Our staff manned a booth in the Exhibit Hall and spoke with teachers from all over California about their activities, needs, and ideas. Program coordinator Amanda Rollins presented about JFLA's new advocacy resources (including the two websites mentioned above) and showed participants how to make the SPEAKJAPAN.org customizable brochure. During the presentation, Kelly Stone of Rosemont High School (CA) spoke glowingly of her experiences with the Teacher Training Program at the Japan Foundation's Japanese-Language Institute, Urawa. Next stop: the AATJ Spring Conference in Chicago!