The Japan Foundation, Los Angeles - We are 'your' japan.
Come discover the Japan that inspires you by exploring all that we offer!
Music credits: Energy by bensound.com
About Us
The Japan Foundation, Los Angeles (JFLA) promotes international awareness and mutual understanding between Japan and the U.S. through cultural exchange. We administer a wide range of programs and grants aimed at introducing Japanese arts and culture, supporting Japanese Studies and language education, and promoting publications, translations related to Japan.
We are a non-profit organization, funded by an endowment from the Japanese government, annual government subsidies, as well as private sector donations. In addition to our Tokyo headquarters, the Japan Foundation has 25 offices in 24 countries, including our Los Angeles and New York office, as well as two Japanese-language institutes in Japan, and a Kyoto Office.
JFLA (formerly known as The Japan Foundation Los Angeles Office, 1983-1994, and The Japan Foundation Los Angeles Office & Language Center, 1994-2004) first opened its doors in Little Tokyo, Los Angeles, in February 1983. Now located in the Wilshire Courtyard of the Miracle Mile District, JFLA conducts arts and cultural programs for the Western United States. We are also proud to provide comprehensive assistance for Japanese-language education nationwide.
Click here to learn more about our history.
DIRECTOR'S GREETING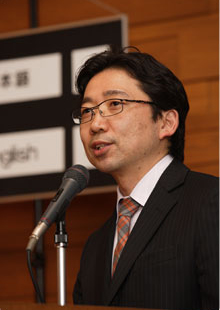 Welcome to the website of the Japan Foundation Los Angeles (JFLA). I am very excited to assume the position as Director at this very important juncture in the history of US-Japan relations as our two countries commemorate the 70-year anniversary of the end of WWII. This is a great opportunity for us to reflect upon the fact that the positive bilateral relationship we enjoy today has been the product of unwavering efforts by our forerunners with good spirits and imagination on both sides of the Pacific. These people, from every corner of society including governments, corporations, educational institutions, and civic organizations, unanimously thought the reconciliation must start with a sincere exchange of ideas and opinions between our two nations. Hence, there have been numerous avenues established through which we can closely observe and appreciate each other's culture, engage in dialogue, and collaboratively develop new ideas and solutions. The Japan Foundation has supported these endeavors since its establishment in 1972 and has been providing opportunities for cross-cultural exchanges in the fields of arts and culture, Japanese language education, and the Japanese studies and intellectual dialogue. My colleagues and I here at JFLA feel very privileged to carry on this important legacy of fostering mutual understanding, friendship and trust between the US and Japan and hope to do so for many more decades to come.
At the core of our numerous programs in Los Angeles is our support of Japanese language education. Thanks to the close partnership we have developed over the years with individual and institutional stakeholders within the field of Japanese language education in the US, more and more Americans are now studying the language. We will put forth our best effort to meet their demand, but we would like to do more by inviting new friends and making the language even more popular. This will only be possible by further collaborating with our diverse cultural and educational partners. Language can be a very flexible tool to observe an unfamiliar culture. It can provide a cinematographic overview of the culture in the beginning, then as you explore further, it can also work as a microscope to discover what has been completely hidden from you about it. I would like to take this opportunity to ask our friends for their hand in supporting our ever more exciting cross-cultural endeavors through the power of language learning with the ultimate goal of bringing our two nations even closer together.
Sincerely,
Hideki Hara
Director
The Japan Foundation, Los Angeles
VISITOR'S INFORMATION
The Japan Foundation, Los Angeles is located in the Miracle Mile District of Los Angeles, and situated in the Wilshire Courtyard between S Masselin Avenue and Courtyard Place.
The Japan Foundation, Los Angeles
5700 Wilshire Boulevard, Suite 100
Los Angeles, CA 90036
Tel. (323) 761-7510
parking
Please use this map for your reference in finding parking. Parking restrictions may change depending on the time and day of the week.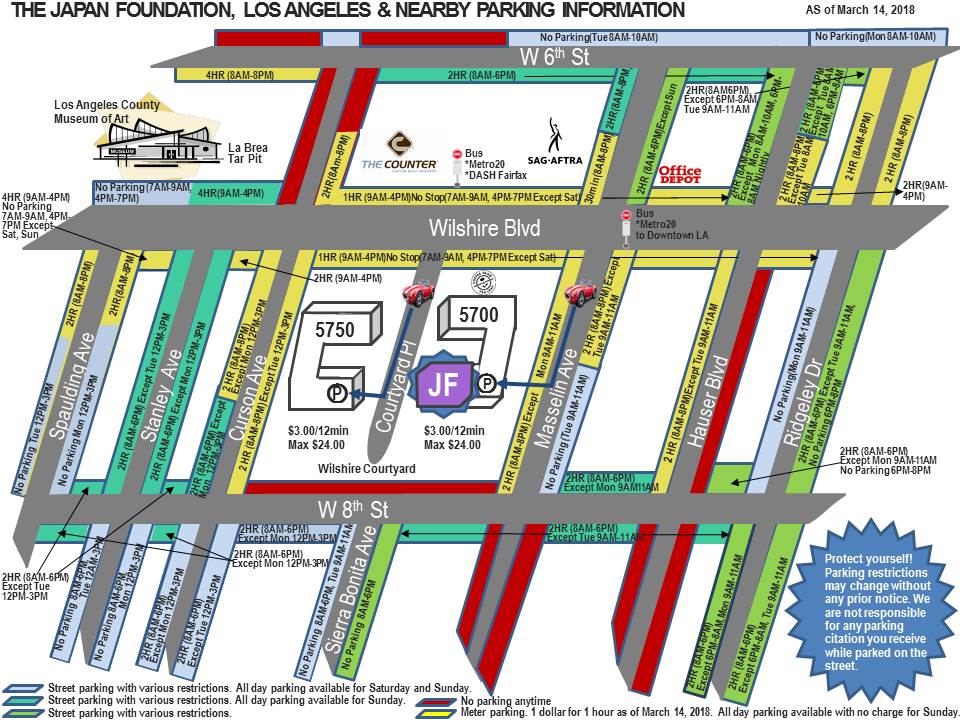 STAFF DIRECTORY
Executive Team
Yasuko Uchida
Director
EXT. 150
Shimpei Ishii
Deputy Director
EXT. 104
Yasuko Yokota
Office Manager
EXT. 117
JF Nihongo Courses Team
Satomi Williams
Program Assistant
EXT. 105
Arts & Culture Events Team
Tatsuya Kawashima
Arts & Culture / PR
EXT. 107
Tomoko Libertus
Program Coordinator
EXT. 115
Miyako Matsumura
Program Coordinator / PR
EXT. 108
Japanese Language Education Team
Mamiko Nakai
Grants Specialist (Language)
EXT. 110
Thomas Lin
Japanese Language / PR
EXT. 109
Mike Penny
Program Coordinator / PR
EXT. x116
Lena Kelly
Program Coordinator
EXT. x122