The Japan Foundation, Los Angeles - We are 'your' japan.
Come discover the Japan that inspires you by exploring all that we offer!
Music credits: Energy by bensound.com
About Us
The Japan Foundation, Los Angeles (JFLA) promotes international awareness and mutual understanding between Japan and the U.S. through cultural exchange. We administer a wide range of programs and grants aimed at introducing Japanese arts and culture, supporting Japanese Studies and language education, and promoting publications, translations related to Japan.
We are a non-profit organization, funded by an endowment from the Japanese government, annual government subsidies, as well as private sector donations. In addition to our Tokyo headquarters, the Japan Foundation has 25 offices in 24 countries, including our Los Angeles and New York office, as well as two Japanese-language institutes in Japan, and a Kyoto Office.
JFLA (formerly known as The Japan Foundation Los Angeles Office, 1983-1994, and The Japan Foundation Los Angeles Office & Language Center, 1994-2004) first opened its doors in Little Tokyo, Los Angeles, in February 1983. Now located in the Wilshire Courtyard of the Miracle Mile District, JFLA conducts arts and cultural programs for the Western United States. We are also proud to provide comprehensive assistance for Japanese-language education nationwide.
Click here to learn more about our history.
DIRECTOR'S GREETING
Hajimemashite!
My name is Yasuko Uchida. I am very much delighted and relieved to finally arrive here in Los Angeles to assume the position of Director at The Japan Foundation, Los Angeles, after many months of delays due to COVID-19.
The world has changed dramatically during that time and especially in the United States where people are feeling a sense of uncertainty, anger, and despair due to the virus, protests for equality, and fires that have clouded our skies.
Due to the pandemic, many of our events and activities have been cancelled or moved online. But despite these limitations, we have continued to pursue our goal of bringing people together through the enjoyment of our programs.
We have learned from our friends all across the country that Japanese language education has been seriously impacted by the pandemic, even worse than what we experienced during the financial crisis a decade earlier. We are tapping into all our resources to support as many of these programs as possible. For cultural events, we are also looking into different opportunities with our partners to create online events that we hope will bring the community together and provide a bit of relief during these turbulent times.
When the time comes, we plan to safely reopen our event space to the public and I look forward to meeting you all in person at that time. Until then, I hope everyone will continue to stay safe.
In spite of the difficult times, we are determined to continue fostering friendships, trust, and mutual understanding through our inspiring language and cultural programs!
Sincerely,
Yasuko Uchida
Director
The Japan Foundation, Los Angeles
VISITOR'S INFORMATION
The Japan Foundation, Los Angeles is located in the Miracle Mile District of Los Angeles, and situated in the Wilshire Courtyard between S Masselin Avenue and Courtyard Place.
The Japan Foundation, Los Angeles
5700 Wilshire Boulevard, Suite 100
Los Angeles, CA 90036
Tel. (323) 761-7510
parking
Please use this map for your reference in finding parking. Parking restrictions may change depending on the time and day of the week.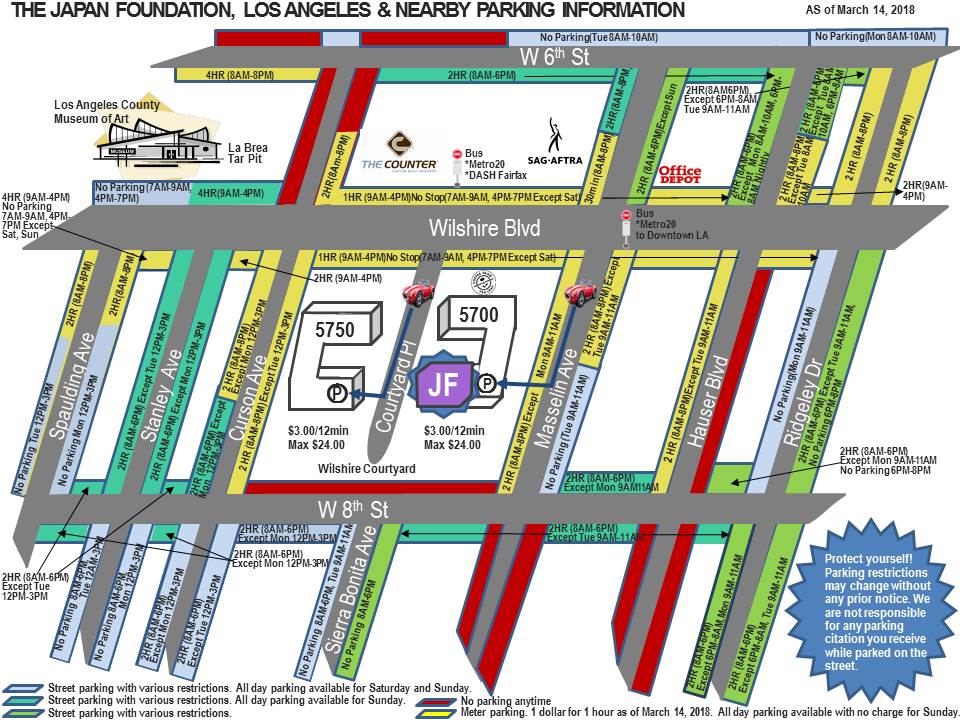 STAFF DIRECTORY
Executive Team
Yasuko Uchida
Director
EXT. 150
Shimpei Ishii
Deputy Director
EXT. 104
Yasuko Yokota
Office Manager
EXT. 117
JF Nihongo Courses Team
Satomi Williams
Program Assistant
EXT. 105
Arts & Culture Events Team
Tatsuya Kawashima
Arts & Culture / PR
EXT. 107
Tomoko Libertus
Program Coordinator
EXT. 115
Miyako Matsumura
Program Coordinator / PR
EXT. 108
Japanese Language Education Team
Mamiko Nakai
Grants Specialist (Language)
EXT. 110
Thomas Lin
Japanese Language / PR
EXT. 109
Mike Penny
Program Coordinator / PR
EXT. x116
Lena Kelly
Program Coordinator
EXT. x122