February, 2015: Breeze Issue #88
A Free Monthly E-Newsletter for Friends of Japan & Teachers of Japanese
Report: The KAKEHASHI Project (January 18 - 24, 2015)
by Erin Okamoto, KAKEHASHI Project Coordinator
Six young leaders from Iwate, Miyagi, Fukushima, Wakayama, Aichi, and Oita prefectures participated in the "Kakehashi (Bridge for Tomorrow) Project - Community Advocacy by Young Professionals". This program promotes a deeper mutual understanding between Japan and the United States and provides opportunities for the younger generation to develop wider perspectives on a range of issues. Additionally, the project aims to enable future innovators of Japan-US exchanges to form networks and to encourage them to adopt active roles at the global level in the future.
These envoys were selected to travel to Los Angeles and Denver from January 18 to 24, 2015, and visited local facilities where they shared their knowledge and engaged in dialogues about common issues and interests between both countries, such as: local entrepreneurship, tourism and exchange, urban planning, and the environment. In each city, the representatives attended networking events where they presented about their respective communities' troubles and spoke with people in similar industries. The audience asked stimulating questions and the discussions between them were dynamic. These notable emissaries created a strong connection with other leaders from Los Angeles and Denver.
In Los Angeles, the young candidates visited local businesses and NGO's like Free LA Tour and Heal the Bay to learn about nonprofit outreach programs. They also dropped by the Japan American National Museum and Kizuna to get a sense of the Japanese-American community. In Denver they explored a mixture of non-profit businesses like Denver B-Cycle to for-profit businesses like Denver Beer Co., and Visit Denver. The visits to Human Rights and Community Relations in Denver City and the Colorado Center for Community Development really opened their eyes to the hard work that goes into maintaining a city.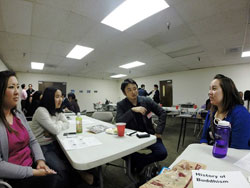 By connecting with individuals at these facilities, the young leaders were able to feel the strong sense of locality that exists here in the United States. These nominees understand that though individualism is important in America, the community plays a large role in society. Also, they learned the significance of respecting the uniqueness of the neighborhood, and that differences should be celebrated. All six participants hope to carry that idea back to their own communities and implement it there.