Wellness Wednesdays:
Wednesdays at Lunchtime
"Virtual" Meditation with
Japanese Singing Bowl
Relax with Sound Bath at Lunchtime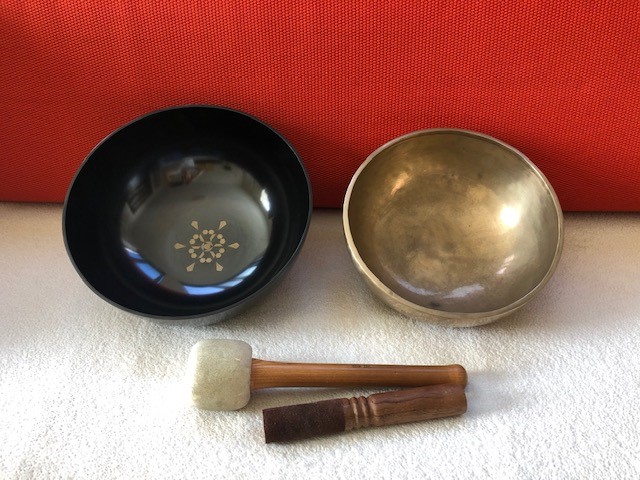 A feature of the Singing Bowl its skillfully applied Japanese lacquer
Date & Time:
Every Other Wednesday
12:30pm
(15min, one session)
We would like to help during these trying times. Meditation with Japanese Singing Bowl will be offered via JFLA Facebook LIVE!
The singing bowl used for this program harmoniously combines the healing qualities of the Tibetan singing bowl and its Japanese traditional singing bowl. Relax and feel your stress dissipate into thin air as the sounds of the singing bowl lead you into a meditative state.
There will be one session starting at 12:30pm. Just go to JFLA's Facebook page (www.facebook.com/JFLALC). Refresh and recharge yourself with us at home!
What is Singing Bowl?
The singing bowl used in this program is a healing musical instrument that Japanese craftsmen designed with the finest of details. Tibetan meditation bowl (a type of Buddhist instrument) has rich harmonic overtones, Japanese traditional singing bowl (also a type of Buddhist instrument) has a beautiful single tone and long sustain. The singing bowl used in this meditation program is a wonderful healing instrument incorporating both the Tibetan and Japanese qualities. Harmonious waves penetrate quickly and deeply, while harmonic overtones delicately realign the body.
You don't need to have a Facebook account. Click the link above. The live video will show up on the main page.
If you miss the video, you can still find it on our FaceBook or our YouTube channel. (Click here)
about Instructor
Yuki Uwasawa is CMT (Certified Massage Therapist in CA), Sound Body Healing, Shiatsu Practitioner, Deep Massage Practitioner, Kundalini yoga teacher (K.R.I Certificate of Training).
She moved to California in 1989 and soon after developed an interest in body work (massage, healing) which she began studying in 1991. Throughout the nineties Yuki studied numerous types of massage and body healing by attending workshops at various schools including the Emperor's College of Traditional Oriental Medicine, Massage School of Santa Monica, Esalen Institute, and La Stone, to name a few. Yuki first experienced the healing properties of sound through singing bowl in 2016 and has been practicing sound healing since. Her singing bowl used in the meditation sessions is called "Singing Ring".
https://www.little-snow-mountain.com
Wellness Wednesdays
The Japan Foundation, Los Angeles offers a "Wellness Wednesdays" program on Wednesdays* at lunchtime. Check the schedule as follows.
January 6: "Virtual" Bilingual Yoga (12:30pm)
January 13: "Virtual" Meditation with Japanese Singing Bowl (12:30pm)
January 20: "Virtual" Bilingual Yoga (12:30pm)
January 27: "Virtual" Meditation with Japanese Singing Bowl (12:30pm)
February 3: "Virtual" Bilingual Yoga (12:30pm)
February 10: "Virtual" Meditation with Japanese Singing Bowl (12:30pm)
February 17: "Virtual" Bilingual Yoga (12:30pm)
February 24: "Virtual" Meditation with Japanese Singing Bowl (12:30pm)
March 3: "Virtual" Bilingual Yoga (12:30pm)
March 10: "Virtual" Meditation with Japanese Singing Bowl (12:30pm)
March 17: "Virtual" Bilingual Yoga (12:30pm)
March 24: "Virtual" Meditation with Japanese Singing Bowl (12:30pm)
March 31: "Virtual" Bilingual Yoga (12:30pm)