July, 2016: Breeze Issue #105
A Free Monthly E-Newsletter for Friends of Japan & Teachers of Japanese
Japanese Language Education Update 32:
JF Invitational Group Tour to Japan for US Educators 2016
by Amanda Rollins, Japanese Language Program Coordinator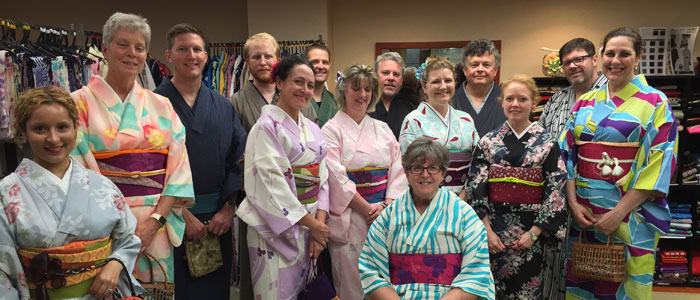 Last week, 14 American education administrators from across the country embarked on a ten-day trip to Japan. This group of superintendents, principals, community leaders and world language coordinators were invited by the Japan Foundation to visit Tokyo, Kanazawa, and Kyoto in order to deepen their understanding of Japanese culture and education.

All 14 administrators are deeply involved in the process of starting foreign language programs in their jurisdictions, whether at an individual school, a school district, or a state. By taking these administrators on a fun and educational tour of Japan, the Japan Foundation hopes to establish administrative support for fledgling Japanese programs from the very beginning.
Participants visited an elementary school and high school in Kanazawa, as well as a secondary school and university in Tokyo. They got the chance to sit down with teachers and administrators to discuss the challenges in the Japanese education system and the upcoming initiatives which will address those challenges. Hopefully, the participants will return to their schools, districts, and states with a more global perspective on education, and perhaps with some new ideas for facing challenges of their own.
The Japan Foundation is looking forward to continued collaboration with them to promote Japanese language education throughout the United States.
Japan Foundation Invitational Group Tour to Japan for US Educators 2016
List of Participants

Title

First Name

Last name

Title

Affiliation

State

Mr.

Corey

Alderdice

Director

Arkansas School for Mathematics, Sciences, and the Arts

AR

Mr.

Benjamin

Allred

Director of High School Curriculum and Instruction
Director of English as a Second Language

Cabarrus County Schools

NC

Ms.

Elyse

Dashew

Vice Chair, At Large Representative

Charlotte-Mecklenburg Schools Board of Education

NC

Mrs.

Desa

Dawson

Director of World Language Education
President-Elect

Oklahoma State Department of Education
ACTFL

OK

Dr.

Clark

Egnor

Director of International Programs

West Virginia Higher Education Policy Commission

WV

Dr.

David

Greer

Coordinator of World Languages

New Jersey Department of Education

NJ

Dr.

Lisa

Harris

Specialist for Foreign Languages

Virginia Department of Education

VA

Mrs.

Ellen

Hart

Instructional Director, World Languages and Arts Education

North Carolina Virtual Public School

NC

Ms.

Charleen

Jordan

English as a Second Language Coordinator

Radford City Public Schools

VA

Ms.

Sandra

Noyola

Principal

PS 147 The Isaac Remsen School for Environmental Engineering, NYC Department of Education

NY

Ms.

Anna

Pavichevich

Principal - Head of School

Amundsen High School, Chicago Public Schools

IL

Dr.

Andrew

Rikli

Superintendent of Schools

Papillion La Vista Community Schools

NE

Mr.

David

Sable

Executive Director of Student Services

Radford City Public Schools

VA

Mrs.

Julia

Tatum

Assistant Principal

Clover Hill High School, Chesterfield County Public Schools

VA