December, 2013: Breeze Issue #74
A Free Monthly E-Newsletter for Friends of Japan & Teachers of Japanese
Japanese-Language Education Update 1: 2013 ACTFL Report
by Amanda Rollins, Japanese Language Program Coordinator
We had a jam-packed schedule at the ACTFL 2013 Annual Convention and World Languages Expo in Orlando, Florida from November 21-24! In addition to the JFLA booth, a speech, and two presentations, we held a Leadership Workshop for six carefully selected potential future leaders of Japanese language education in the U.S.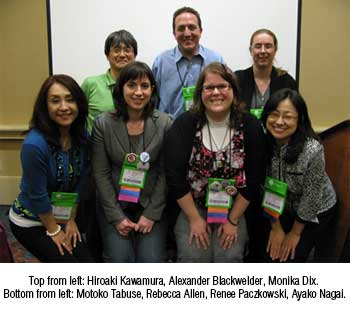 We invited six teachers from three states to sit down with AATJ President -elect Professor Motoko Tabuse of Eastern Michigan University to talk about how to improve the current state of Japanese language education in America. From California: Scripps Ranch High School teacher Alexander Blackwelder and TJLT 2013 President Ayako Nagai. From Ohio: Dublin Jerome and Dublin Coffman High School teacher Rebecca Allen and OATJ President 2011-2012 Hiroaki Kawamura. From Michigan: Detroit Public Schools teacher Renee Paczkowski and JTAM President 2012-2013 Monika Dix. Professor Tabuse and the six participants discussed the qualities of a great leader, 21st Century skills in the classroom, and specific advocacy plans for their regions.
At the JFLA booth, a variety of teachers, administrators, and even students of Japanese stopped by to get up-to-date information and apply for a trial edition of our new series of textbooks, Marugoto. We were right next to the AATJ booths, so we saw plenty of members both in the Exhibit Hall and at the AATJ luncheon where our Director Misako Ito made an impassioned speech about advocating for Japanese language programs.
The final day at ACTFL was our time to shine. Deputy Director Rei Suzuki presented the results of the Survey Report on Japanese-Language Education Abroad 2012 (published by Kurosio Publishers and soon to be available at jpf.go.jp). A presentation on the JF Standard and Minna no Can-Do site (http://jfstandard.jp/cando) was led by JF Nihongo teachers Yuka Kitazono and Hiroko Katsuta.
Though our schedule was very busy, somehow we found some time to go to dinner with some of our counterparts from JF Toronto, JF Mexico, and JF New York to share our experiences and plan some international collaboration. What a great chance for a JF Reunion!