August, 2013: Breeze Issue #70

A Free E-Newsletter for Friends of Japan & Teachers of Japanese
Greeting From The Director
Among so many rewarding missions at JFLA, meeting young people and seeing their smiling faces gives me more happiness than anything else! In July we welcomed back to Los Angeles a group of 32 JET-MIP participants who returned from their 16-day trip to Japan. They amazed me because they appeared to have learned and matured so much from what they experienced and learned during their stay in Japan, in particular in the Tohoku area. This was the third year since we launched this program to commemorate Ms. Taylor Anderson and Mr. Monty Dickson, who lost their lives in the Tohoku earthquake and tsunami disaster on March 11, 2011. I am sure that the participants in this program will keep Taylor and Monty's legacy and pass the torch on to the next generation so that it may forever bring light to the future of Japan-US friendship. We also had another group of teenagers attending our JF Nihongo Summer Day Camp course in Little Tokyo. They enjoyed a full 5-day camp, and their smiling faces on the final day when they put on yukata to make their final presentations told the whole story of their experience. We are so proud of our 21st-century generation, and we feel so rewarded to be able to be a part of their 2013 summer memories.
Misako Ito, Director
---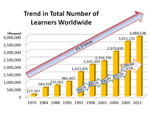 Survey On Japanese-Language Education Abroad 2012
Preliminary Results
The Japan Foundation conducts the Survey on Japanese-Language Education Abroad every three years to gauge the most current status of Japanese-language education around the world. We are pleased to announce the preliminary results of the 2012 Survey, which shows that the total number of Japanese-language learners around the world increased by 9.1%, totaling over 3.98 million people. In the U.S., the number of learners increased by 10.4%, with a total of 155,939 individuals.
---
Exhibition: Handcrafted Form - Traditions and Techniques
Ends Wednesday, August 21
Free to Attend
The Japan Foundation, Los Angeles (JFLA) will host a world-traveling exhibition of hand-crafted objects made by traditional master artisans of Japan, in partnership with the nearby Craft and Folk Art Museum (CAFAM).
---
Origami Workshop
Saturday, August 17 (1, 3, and 5PM) at JFLA
Come join us for our first ever origami workshop where you will learn how to fold various paper animals show in the picture. We will provide the paper and instructions and all you have to do is show up. This is the perfect event to bring you child to on a Saturday afternoon.
---
Japanese Swordsmith Lecture
Tuesday, September 3 at 7PM
JFLA Auditorium
Free Admission, RSVP Required


---
2013 J-LEAP
For the 2013-2015 school year, we recruited 12 additional teaching assistants (TAs) to our Japanese Language Education Assistant Program. To prepare them for their new lives in the United States, we organized a week-long training beginning from August 3rd through August 8th at UCLA with the cooperation of The Laurasian Institute, who is our partner on this project. The new TAs will arrive in Los Angeles and will be participating in the training. Afterwards, they will travel to their assigned cities all across the United States and we will feature essays from them in future issues of Breeze. For more information regarding J-LEAP, please visit the site below.
---
2013 JLPT Registration Period Starts on August 26th
Registration for the 2013 Japanese Language Proficiency Test will be open this month from Monday, August 26th through Friday, September 27th, 2013, with the test date on Sunday, December 1st, 2013. This year, the American Association of Teachers of Japanese (AATJ) will be in charge of all test administration roles. For more information, please visit their website below.
---
JLPT The Basics
August 24 (N5 Class at 10AM, N4 Class at 1:30PM)
Register Now!
The Japanese Language Proficiency Test (JLPT) will be held on December 1st in the United States. This workshop aims to provide learners of Japanese with an overview of the exam, including its purpose, structure and scoring.
---
JF Nihongo Fall Term
September 19 – November 12
Register Now for JF Nihongo Fall Term. We plan to offer courses that are designed for new Japanese-language learners, as well as those who are interested in improving their existing language skills. If you register by September 7, you can qualify for a 10% discount off your application fee. Join us at JFLA to study Japanese this fall!
---
2013-2014 Japanese Language Grants
In mid-February, we started accepting applications for several grant programs that we organize annually in support of Japanese language Education in the United States. The remaining grants include the Japanese Language Contest Grant (2nd Deadline: 9/3/2013), Japanese Teaching Materials Purchase Grant (2nd Deadline: 9/16/2013) and Japanese language Education Grant (Deadline: 2 months prior to project start date).
---
JFLA Book Sale and Giveaway!
Saturday, August 10 from 12 - 4:30PM
Our Library has over 500 BOOKS (in Japanese and English!) ranging from Japanese language learning materials to fiction to give away for FREE!! PLUS - new books at cheap prices!! Come feed your mind and imagination at the JFLA Library and go home with some new friends to treasure in your own library!
---
LA Tanabata Festival
Friday, August 9 through Sunday, August 12
Next to JANM in Little Tokyo
As part of the 2013 Nisei Week Celebration, we will be submitting a Kazari to display at the Tanabata Festival. Make sure to come out and see our Kazari display along with many others during the weekend festivities!
---
Sayonara Maki
We are sad to report that our long time Academic Specialist, Ms. Maki Watanabe Isoyama, left JFLA at the end of July. Maki was in charge of supporting Japanese language education in the United States for the past 10 years and her contributions to the field will be surely missed. We thank her for her hard work and wish her the best of luck in her feature endeavors.
---
Event Report: JFLA Lecture Series 11
PIONEERS IN COURAGE AND SPECIAL FILM SCREENING
Reported by Colin Marshall
Behind every great man, so they say, you'll find a great woman. Hisako Matsui's film Leonie contends that behind two particular great men, one Japanese and the other Japanese-American, you'll find one particularly great American woman.