May, 2013: Breeze Issue #67

A Free E-Newsletter for Friends of Japan & Teachers of Japanese
Greeting From The Director
People in Japan during early May are taking advantage of the so-called Golden Week and are traveling across the country or simply relaxing at home in their extended spring breaks from their offices or schools. It is the best season of the year in Japan after a long cold winter!
In LA, the weather is also way too lovely to be working inside an office. Let's go out and enjoy the very first Japanese Photography Exhibition at the Getty Museum, overlooking the pretty Malibu coastline. Even in your neighborhood, you may find street banners of the famous black-and-white portrait of a farmer in traditional Mino (straw) Raincoat in snowy Niigata by Hiroshi Hamaya. The Exhibit will last for another few months till August, so please visit and enjoy the ambiance of 1960s and 70s in Japan.
We are now getting ready for another busy summer with many programs being planned. Summer Day Camp for Teens will return again to Little Tokyo after last year's successful launch. If your teenage kids have not yet decided what to do this summer, please consider this unique Day Camp for a memorable experience in Japanese culture and language.
Misako Ito, Director
---
Summer Day Camp for Teens: Discover Little Tokyo
July 22nd - 26th in Little Tokyo
Register Now!
We provide an exciting opportunity for teenagers to interact directly with native speakers, on location in Little Tokyo, Los Angeles. Designed for students with no prior Japanese language experience, this course offers a great start for those planning to study Japanese. For 14-18 year-olds with no prior experience in learning Japanese.
---
Directors' Talk
Your Hometown: The Power of Place in Coming-of-Age Film
May 11th at JFLA Auditorium
Click Here to RSVP (Required)
American Graffiti and California. Good Will Hunting and Boston. Strawberry Fields and Wakayama. Some films are synonymous with their locations. Award-winning directors Nobuhiko Obayashi and Takafumi Ota, making a special visit from Japan, will discuss the emotional power of setting in film, with a Q&A to follow.
---
May JAPANEMA Schedule
Matinee @ Noon
5/1 "Kamui Gaiden"
5/8 "Goemon"
5/22 "Leonie"
5/29 "Successional Tradition of Noh"
Evening @ 7PM
5/29 "Doraemon the Movie: Nobita's Dinosaur 2006"
---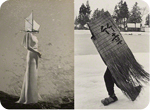 Japan's Modern Divide:
The Photographs of Hiroshi Hamaya and Kansuke Yamamoto
March 26th - August 25th at the Getty Museum
This exhibition presents the work of two 20th-century photographers, Hiroshi Hamaya and Kansuke Yamamoto, who represent important but alternate paths in Japanese photography.
---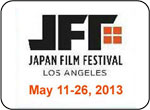 Japan Film Festival - Los Angeles
May 11th - 26th, 2013
Tickets Required
This festival was started in 2003 as the Chanoma Film Festival, and has been a vanguard event dedicated to strengthening the general understanding of Japanese culture by providing American and Japanese audiences in Los Angeles cutting-edge, original films depicting authentic representations of contemporary Japan. For 2013, there will be two screenings at the Japan Foundation, Los Angeles, on Saturday, May 11th, and Wednesday, May 15th. For tickets, please visit their website below.
---
International Manga Award
Call for applicants
Deadline: May 31st, 2013
The International MANGA Award was established in May 2007 upon the initiative of then-Minister for Foreign Affairs Mr. Taro Aso with the aim of awarding MANGA creators who contribute to the spread of MANGA culture overseas. It has been held every year since its establishment. This year as well, the Seventh International MANGA Award Executive Committee decided to hold the Seventh International MANGA Award.
---
New Administrator for the 2013 JLPT
Starting in 2013, the American Association of Teachers of Japanese (AATJ) will take over all test administration roles for the Japanese Language Proficiency Test in the United States. All inquiries should be made to AATJ from this point forward as we work together to make this transition as seamless as possible. With their resources, we hope they will be able to improve the overall testing experience.
---
2013-2014 Japanese Language Grants
In mid-February, we announced the start of several grant programs that we organize annually in support of Japanese-Language Education in the United States. The remaining grants include the Japanese Language Contest Grant (2nd Deadline: 9/3/2013), Japanese- Materials Purchase Grant (2nd Deadline: 9/16/2013) and Japanese-Language Education Grant (Deadline: 2 months prior to project start date).
---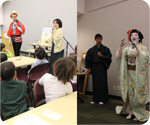 JFLA Event Reports
This month, we feature two write ups covering recent events at JFLA. They include Dōbutsu Shōgi with Japanese master, Madoka Kitao and Classical Japanese Dance and Make-up featuring Masaka Nishikawa and Kirk Nishikawa Dixon. We really appreciate Alexander and Colin for taking the time to report on these events.
---
New Information Center Acquisitions
The link below contains a lists of new materials we received in our information center. They are divided into four categories including Children's Books, Books in English, Kamishibai, and DVDs. Please make sure to visit soon to barrow the new materials. Our annualy library membership fee is only $2!