Handcrafted Form: Traditions and Techniques
Japan Foundation, Los Angeles (JFLA) and Craft and Folk Art Museum (CAFAM)
to partner for collaborative exhibition of traditional Japanese handcrafts

Exhibition:
Thursday, July 11, 2013 to Wednesday, August 21, 2013
Hours:
Tuesday-Friday: 11:00AM - 5:00PM
Saturday&Sunday: 12:00PM - 6:00PM
Closed on Mondays
Venue:
JFLA (5700 Wilshire Blvd. #100, Los Angeles, CA 90036)
CAFAM (5814 Wilshire Blvd., Los Angeles, CA 90036)
and 4 additional locations around LA, as part of Folk Art Everywhere:
La Casa Del Mariachi (1836 E. 1st St., Los Angeles, CA 90033)
Mama's Hot Tamales Cafe (2124 W. 7th St., Los Angeles, CA 90057)
Plummer Park Community Center (7377 Santa Monica Blvd., West Hollywood, CA 90046)
SAJE (152 W. 32nd St., Los Angeles, CA 90007)
Admission: Free
Overview:
The Japan Foundation, Los Angeles (JFLA) hosts Handcrafted Form, a world-traveling exhibition of hand-crafted objects made by traditional master artisans of Japan, in partnership with the nearby Craft and Folk Art Museum (CAFAM). The exhibition will run for six weeks until Wednesday, August 21. There will be no charge to see this exhibit at any venue.
Handcrafted Form introduces contemporary examples of traditional arts and crafts that have developed within the context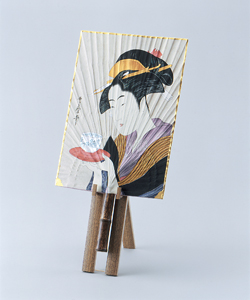 of daily life, including ceramics, textiles, metalwork, lacquerware, woodcraft, papermaking, and writing implements. Through this exhibition, master artists and craftspeople display the depth of their creativity and the richness of their traditions, honed in regional workshops rooted deeply in the climate and landscape of regions all across Japan. The exhibition features both utilitarian objects and creative works of art.
In this first collaborative project between JFLA and CAFAM, over ninety pieces will be displayed at the JFLA Auditorium, the CAFAM first-floor gallery, and four additional locations around Los Angeles as part of Folk Art Everywhere, a project that promotes the unique cultural and artistic landscape of Los Angeles by bringing art into unexpected spaces and celebrating all folk.
About The Craft and Folk Art Museum
The Craft and Folk Art Museum (CAFAM) is Los Angeles' only institution exclusively dedicated to exhibiting contemporary craft, design, and folk art. Located on the city's historic Museum Row, CAFAM's dynamic exhibitions feature established and emerging artists whose works create thoughtful and provocative visual exchanges between craft and contemporary art. CAFAM's regular programs and events provide opportunities for the public to participate in artmaking and engage with exhibiting and local artists. In addition to the exhibitions on view, the CAFAM Shop features fair-trade art and handicrafts from local and global artists and artisans.