JFLA LECTURE SERIES 11 AND SPECIAL FILM SCREENING
Event Report
Behind every great man, so they say, you'll find a great woman. Hisako Matsui's film Leonie contends that behind two particular great men, one Japanese and the other Japanese-American, you'll find one particularly great American woman. Not only did the titular Leonie Gilmour edit the work of poet and novelist Yone Noguchi, she raised the sculptor and architect Isamu Noguchi, her son by Yone. At a special screening of this historical drama at the Japan Foundation, Los Angeles, we watched Gilmour, played by Emily Mortimer, earn distinction at Bryn Mawr College, develop an interest in Japanese culture, win Yone Noguchi an Anglophone audience, give birth to Isamu Noguchi, move with her son all the way to Japan, "tutor" English and thereby learn the ways of Japanese life from Tokyo University students, break her dependence on Yone, build a house in Chigasaki designed by the young Isamu, and return to America where she would live out her years.
According to the film, much if not all of Gilmour's interest in Japan had its origin in a chance meeting with an important Japanese activist and educator, and both of them would make their marks on the world in the struggles for women's rights in America and an opening to western influence by the Meiji government in Japan. At Bryn Mawr, Mortimer's Leonie Gilmour befriends Umeko Tsuda, then a graduate student, but one who would, on the strength of her drive to advance for her gender, go on in 1900 to found what would become the private women's Tsuda College. Before the screening, the Japan Foundation treated us to a lecture from Tsuda College's former president Masako Iino, who told us of Matsui's quest to fund and produce Leonie, an effort that ultimately required seven years, thirteen trips around the world, and the support of over 3,000 women.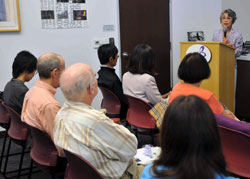 To this work Matsui tirelessly dedicated herself after reading about Leonie in Masayo Duus' The Life of Isamu Noguchi: Journey Without Borders. Describing Leonie as "a work of imagination built on a foundation of fact," the director intertwined the paths of Leonie and Umeko more tightly than did actual fate. Iino noted, for instance, that, despite Bryn Mawr's small size, the two probably did not first meet there. But these lives, as the film portrays them, make for parallel cross-cultural stories of the late nineteenth and early twentieth century "new woman" who cultivated her independence by resisting long-established conventions and expectations, and improving (even creating) institutions and clearing paths for the future achievements of others like her. To properly depict and honor Leonie and Umeko's roles in these societal changes, it naturally took an independent female filmmaker — independent in every sense of the word.
---
PIONEERS IN COURAGE: INDEPENDENT WOMEN BRIDGING CULTURES AT THE TURN OF THE 20TH CENTURY
Lecture by Masako Iino, Former President of Tsuda College, and Screening of Hisako Matsui's Leonie
Date: July 13, 2013 (Saturday) 3:00p.m.
Venue: JFLA Conference Room
Capacity: Limited to 40 Guests
Speaker: Masako Iino, Former President of Tsuda College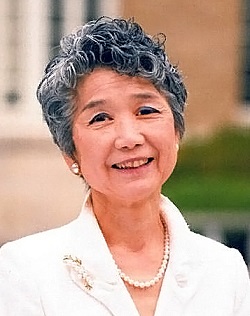 Audience favorite film Leonie from our Japanema matinee series is back by popular demand, to be preceded by a special lecture by Professor Masako Iino, former President of Tsuda College.
Like Leonie Gilmour, mother of the cosmopolitan Japanese-American artist Isamu Noguchi, Umeko Tsuda lived from the late 19th into the 20th century, a period of dramatic changes in both Japan and the United States. A pioneer of women's education, Tsuda established Tsuda College, a private school for women in Tokyo. Professor Masako Iino, former President of Tsuda College, will unravel the momentous era through which these two brave women lived.
STARRING: EMILY MORTIMER ("THE NEWSROOM"; HUGO, SHUTTER ISLAND, LOVELY AND AMAZING, LARS AND THE REAL GIRL) SHIDÔ NAKAMURA (LETTERS FROM IWO JIMA, FEARLESS, RED CLIFF)
Director/Co-­‐Writer/Producer: Hisako Matsui
2010, Runtime: 102 Minutes
Synopsis: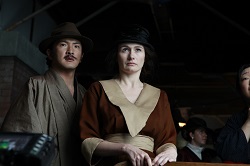 In the lush tradition of the glorious films of Merchant and Ivory, comes the true life story of Leonie Gilmour (Emily Mortimer), whose life crossed continents, wars and cultures, embodied with courage and passion in search of art and freedom. A tender and inspiring story of a remarkable woman who nurtures the amazing artistic talent of her son who has only one way to succeed and one person to guide him, as he grows into the world renown artist, Isamu Noguchi.