Live demonstration
Ichi-go ichi-e: An Evening of Japanese Artistry
DATE & TIME:
SATURDAY, AUGUST 13, 2022
DOORS OPEN AT 6PM (Refreshment will be served)
PROGRAM STARTS AT 6:30 PM
LOCATION:
THE PORTLAND ART MUSEUM
Fields Sunken Ballroom, Mark Building
1119 SW Park Avenue, Portland OR 97205
SOLD OUT
Join us and immerse yourself in a beautifully fleeting evening of Japanese artistry. Ichi-go ichi-e describes the cultural concept of treasuring the unrepeatable nature of a moment. Internationally recognized pottery artist Shozo Michikawa will come to the Portland Art Museum to demonstrate his unique and powerful process of forming clay.

In this program, Michikawa will have a conversation with Jeannie Kenmotsu, Ph.D. to discuss his artistic process. Dr. Kenmotsu is the Arlene and Harold Schnitzer Curator of Asian Art at the Portland Art Museum. Following the conversation, Michikawa will make one of his signature vases while demonstrating his wheel throwing technique. Portland local ikebana instructor Nana Goto Bellerud will join the demonstration and make a special flower arrangement to display in the vase freshly made by Michikawa. This collaborative demonstration will be accompanied with the beautiful sound of traditional Japanese music instruments played by a Portland based duo, Takohachi Collab Project.
About Artists:
Shozo Michikawa
Born on the northern most island in Japan, Hokkaido. He initially had a career in business after graduating from Aoyama Gakuin University, but took up evening classes in art where he discovered his talent and passion for pottery. A few years later, Michikawa made the decision to give up his life in business and to focus on creating ceramics.
In July 2005, he was given the honor of being the first Japanese artist to have a solo exhibition of his art in The Forbidden City, Beijing, China.
Michikawa's ceramics have been widely exhibited in Japan and around the world, including China, America, Canada, France, Germany, Switzerland, Belgium, the Philippines, Mongolia, and the UK.
Nana Goto Bellerud
Nana Goto Bellerud has been studying the Sogetsu School of ikebana since 2005 and continues to be inspired and have new insights from its teachings. Nana demonstrates, exhibits, and teaches ikebana at a wide range of venues. Through her demonstrations and workshops, she seeks to introduce others to the art of ikebana and to intrigue and inspire them. Beyond simply producing a beautiful work of art with flowers and natural objects, she shows her audience how ikebana explores artistic concepts such as balance, contrast, and negative space. Nana is currently serving as Branch Director of Sogetsu Portland and President of Ikebana International Portland Chapter.
Takohachi Collab Project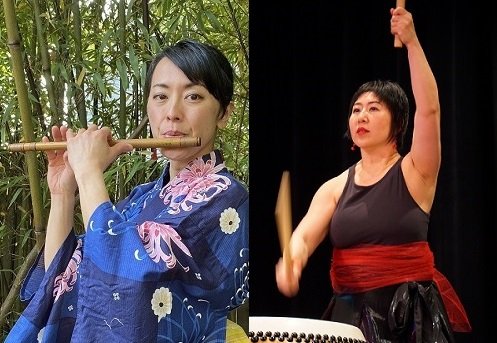 Takohachi is a Portland-based 501(c)(3) Non-profit Organization, introducing Japanese culture through music since 2006. Over time, Takohachi began to develop new material based on the traditions they are studying (onkochishin) and became a multi-faceted organization offering various projects for various audiences.
Takohachi Collab Project is among the many projects by the founding director, Yumi Torimaru, and one of the core performers of Takohachi, Yuki LaBeaux. Yumi has won 1st place in the tsugaru shamisen Bachido Cup 2021 and the internet shinobue contest 2019. Yuki is a Takohachi's semi-professional Q Ensemble-member; she plays taiko and shinobue, currently learning tsugaru shamisen.
Jeannie Kenmotsu, Ph.D.
Jeannie Kenmotsu, Ph.D., is The Arlene and Harold Schnitzer Curator of Asian Art at the Portland Art Museum (Portland, Oregon). She specializes in the art of early modern Japan, with focus on painting, illustrated books, and prints. Other projects include contemporary Asian art and the international postwar reception of modern Japanese prints. She is a Senior Fellow with the Society of Fellows in Critical Bibliography at Rare Book School, University of Virginia. Her research has been supported by the Andrew W. Mellon Foundation, Japan Foundation, and Blakemore Foundation, among others.
The program is co-presented by The Japan Foundation, Los Angeles, and Portland Art Museum. Special thanks to Sugimoto Tea, and Portland Pottery Wheel Rental for their generous support.