December, 2012: Breeze Issue #62

A Free E-Newsletter for Friends of Japan & Teachers of Japanese
Greeting From The Director
With the current year coming to a close we are working very hard to complete our 2012 Survey on Japanese Language Education Abroad and we ask for your cooperation if you are a Japanese language teacher so that we have accurate data on the current trends in the United States. This month, we are also accepting applications for the winter term of JF Nihongo Courses as well as a new Lecture Series that will cover various aspects of Japanese culture starting with an introduction of the Japanese game GO. We hope to organize additional lectures throughout the year so please check back often to for the latest events. For our readers who can read Japanese, I would like to share an essay written by the Japan Foundation Awardee, Ms. Irene Hirano about US Japan Relations in the e-magazine Wochi Kochi, which is published by the Japan Foundation Headquarters. Finally to all our valued subscribers, I would like to wish you all a happy holiday season and a wonderful New Year!

Misako Ito, Director
---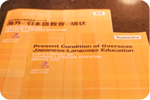 [Important] Calling all Japanese Teachers: The 2012 Japan Foundation Survey
We ask for your help with our 2012 Japanese Language Education survey we are currently conducting. The results of this survey will give a good idea of the current state of Japanese Education around the world. If you are a Japanese language teacher in the United States including Guam, the Mariana Islands, and Puerto Rico we ask for your cooperation and support. Click Here for the results of the previous survey conducted in 2009. If you have any questions or would like further information, please contact Andrew Cohen at survey@jflalc.org.
---
December JAPANEMA Schedule

12/12 "About Her Brother"

12/5 "Quartet"
12/12 "Haru's Journey"
12/19 "Happy Family Plan"
---
JFLA Lecture Series 1: Explore the World of Go
Saturday, Dec. 15, 1-3pm
Go is an ancient board game that has been played in Japan since at least 10th century. Mr. Andrew Okun, president of American Go Association will talk about the history and development of Go in Japan. His lecture explores the ancient board game and how it has continuously expanded in its popularity worldwide as well as evolve in style. Participants will have the opportunity to play Go after the lecture. (Instructions will be provided)
---
JFLA Lecture Series 2: PARO
Saturday, Jan. 12, 1-2:30pm
In January, we will invite Dr. Takanori Shibata, Senior Research Scientist, to give a presentation about his invention PARO, the World's Most Therapeutic Robot certified by Guinness World Records. We will send out more information about this event when it becomes available.
---
JF Nihongo - Winter Term Course
Early Bird Registration Deadline 10% Off: January 10th, 2013
We will be starting our second year of JF Nihongo Courses with winter term at the end of January, 2013. To mark our one year anniversary, we will be offering a 10% discount if you apply before the early bird deadline (Jan. 10). Past students will also be eligible for an additional 10% discount for if their continued support of our courses. The Everyday Japanese series including Mastering Kana and Making Friends 1 & 2 will be offered at both our Little Tokyo and Miracle Mile locations and Business Japanese will only be offered at our Miracle Mile location. We look forward to offering Japanese language classes in 2013.
---
2013 JET Memorial Invitation Program (JET-MIP) Announcement
On March 11, 2011, two Americans participating in the JET Programme as assistant English language teachers lost their lives during the Great East Japan Earthquake and Tsunami. Taylor Anderson, who was in Ishinomaki City and Montgomery Dickson, who was in Rikuzentakada City will be forever remembered as cultural ambassadors representing the U.S. They had a positive influence on the people and communities they served and JET-MIP was created immediately following the disaster to commemorate their work. This year we will continue this program, which provides 32 high school students the opportunity to visit Japan, with a focus on the Tohoku region, and learn about Japanese language and culture first hand.
---
NIKKATSU VINTAGE MOVIE POSTERS EXHIBITION
As part of " Nikkatsu at 100," JFLA is organizing a Vintage Movie Poster Exhibition in our auditorium. This exhibit features posters from nine prominent movies from the Nikkatsu Archives that were screened as part of the celebration with seven shown at USC and the following two movies: "Million Dollars Smash and Grab" and "The Guys who put money on me" shown during JFLA's October JAPANEMA: Free Japanese Movie Screenings.
---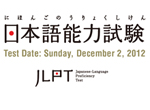 Activity Report: 2012 JLPT
We successfully organized the 2012 JLPT at 13 test sites in the United States including two new locations in Houston, TX, and Ann Arbor, MI. This year, we had the highest number of applicants during the history of the test and look forward to steady gains in the future. We will be sending out test scores by the end of February, so if you need to update your mailing address, please do so by January 31st. There will also be additional information on checking your scores online so please check back in early February for more information.
---
LA Eigo Fest 2012
Rurouni Kenshin will make its North American premiere at LA Eiga Fest, which runs from December 14-16 at the Egyptian Theatre in Los Angeles. Additional films in the 2012 line up include some of the biggest and best films to come out of Japan over the last year including "The Floating Castle," "Thermae Romae," "Helter Skelter," "Kirishima Thing," "Rakugo Eiga" and "Wolf Children". Finally, a special screening of four selected short films will be presented in collaboration with Short Shorts Film Festival & Asia.
---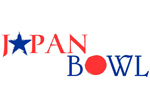 2013 Japan Bowl® of Southern California
Application Deadline: January 18th, 2013
The inaugural Japan Bowl® of Southern California will take place on Saturday, March 9, 2013 at the Bellarmine College of Liberal Arts at Loyola Marymount University.
---
2013 National Japan Bowl
Application Deadline: January 18th, 2013
The 2013 National Japan Bowl will be held Thursday-Friday, April 11-12, 2013 at the National 4-H Youth Conference Center in Chevy Chase, Maryland. The Sakura Matsuri Japanese Street Festival is the largest Japanese cultural festival in the United States - will be held on Pennsylvania Avenue in downtown Washington DC on the following day, Saturday, April 13, 2013.
---
Activity Report: 2012 ACTFL Conference in Philadelphia
This is the sixth consecutive year in which we participated in ACTFL Annual Convention and World Languages Expo and we had many staff members available to answer questions and distribute goods for anyone interested in our organization. We also organized two presentations, "Minna no Can-Do Site: Online Database Tool for 21st Century Teachers" by our Japanese language education team members Maki Watanabe Isoyama and Yuka Kitazono. Maki also gave a solo presentation titled "Make Your Classroom a Window to the World: The Japan Foundation's Tools to Help Teachers." We thank everyone who stopped by our booth and look forward to seeing you again next year.
---
2012 JET Memorial Invitation Program Report Part 5: US-Japan High School Students Summit in Rikuzentakata 2012
They day started with breakfast and we had another beautiful set meal at the Boyo Hotel and afterwards, we packed our bags as it was our last day in Kesennuma. The owner and his wife came out to see us off and also took a few last photos before leaving. We were joined by a guide from the local tourism organization and three volunteers including Azusa Uchikura a graduate from the University of Washington, my Alma mater. She was there documenting the aftermath of the tsunami and her goal is to write a story about the people she encountered so they would never be forgotten.
---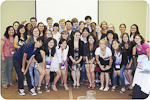 2012 JET Memorial Invitation Program: Participant Essays Part 4
This is the fourth part of an eight part series that will highlight the experiences of 32 participants of the 2012 JET Memorial Invitational Program. Through this program, participants travelled to Japan in July of 2012 for a two week study tour of the Tohoku area, focusing on the cities of Rikuzentakata and Ishonomaki. These were the cities that Montgomery Dickson and Taylor Anderson were assigned to during their tenure as JET Assistant English Teachers. Sadly, they lost their lives during the Great East Japan Earthquake and Tsunami in March, 2011 and this program was created to commemorate their work. Participants took part in exchanges with local elementary, and high school students as well as local community members with the purpose of fostering friendship and goodwill between both countries. This month, we will be featuring the essays of the following participants:
---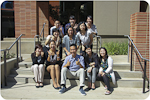 J-LEAP Report: Part 2
For the 2012-2013, we invited 10 additional teaching assistants to various schools around the country as part of the Japanese Language Education Assistant Program (J-LEAP). We have been featuring reports from all the participants describing their experiences as teaching assistants at American high schools. This month, we will introduce Chigusa Izumi, assigned to Booker T. Washington High School in Tulsa, OK, and Katsura Shimano, assigned to Kennedy High School in Bloomington, MN. If you are interested in applying for a native Japanese teaching assistant starting in the 2013 school year, please visit our website for additional information.
---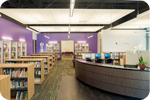 JFLA Holiday Closures
Our office will be closed on December 24th and 25th in observance of Christmas and from December 31st through January 3rd in observance of New Years. The Information Center including the Library will be closed from December 23rd through January 7th. If you need to return books during this time, please contact us at the link below.