virtual lecture series 
HORSES AND HORSE MEDICINE IN MUROMACHI JAPAN
– An Old Manuscript Reveals its Secrets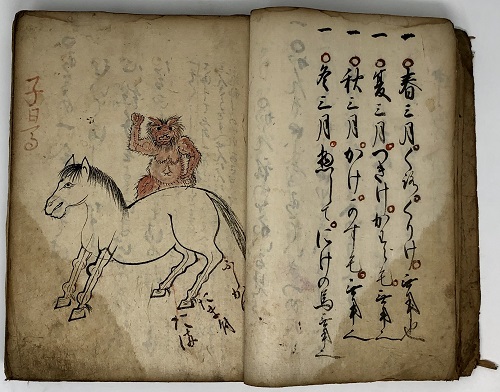 Date & Time:
Wednesday, November 25, 2020
7:00pm-8:00pm (PST)
This lecture will be held on a webinar. Free admission.
The horse was transformative for the islands of Japan from ancient times. The horse was a creature of legend, a force of nature to be worshipped, respected, used, and loved. 
When David Ramey, Doctor of Veterinary Medicine, from California traveled to Kyoto, Japan in April of 2019, he was given an old manuscript written in the Muromachi period (1336-1573) from his Japanese friend. It is written in illegible old Japanese script and full of beautiful and mysterious illustrations about horse medicine. Dr. Ramey's immense curiosity to understand the manuscript led to an internationally collaborated project of translating the manuscript into the modern language. 
In this lecture, Dr. Ramey and one of his co-authors, Ms. Kaoru Tomoyoshi will talk about fascinating discoveries in the manuscript, the little-known history of horses in Japan, and their relationship with the Japanese people during that era. 
About the lecturers:
David Ramey, DVM graduated from Colorado State University School of Veterinary Medicine in 1983. He is a practicing equine veterinarian in Los Angeles California and has published 70 scientific papers and 13 books on horse health. Dr. Ramey is a highly respected speaker, lecturer, and a published author on the history of Chinese veterinary medicine.
Kaoru Tomoyoshi graduated from Kobe City University in Kobe, Japan in 2006 with a Bachelor of Arts degree in International Relations. She is a Japanese National Government Licensed Guide Interpreter.