JFLA Lecture & Demonstration
Samurai Spirit Alive

By Ogasawara Kiyomoto, 32nd Generation Heir to the Ogasawara-ryū School
Date & Time:
Tuesday, November 12 @7pm
 
Venue:
The Japan Foundation, Los Angeles
(5700 Wilshire Blvd., #100 Los Angeles, CA 90036)
*Street parking is available near JFLA. Click here for parking info.

Admission: FREE
This Event is Full.
About the Event:
Ogasawara Kiyomoto will discuss the 850-year history of the Ogasawara school of Archery, Horse Archery and Etiquette. He will show the beautiful equipment and clothing used in ceremonial demonstrations in Japan, and he will explain about the practices of his school and how they pertain to daily life in the modern era.
History and Profile
Ogasawara Kiyomoto, 32nd Generation Heir to the Ogasawara-ryū School of Etiquette, Archery and Mounted Archery (Yabusame)
The Ogasawara family traces its origins to the founder, Ogasawara Nagakiyo, of the Seiwa Genji Clan, the same family line as the Ashikaga and Tokugawa Clans who became the ruling families of the Muromachi Shogunate (1336-1573) and Edo Shogunate (1603-1868). Nagakiyo became the instructor of Kyū-hō (the arts of etiquette, archery and Yabusame) to Minamoto-no-Yoritomo, the founder of the Kamakura Shogunate and ruler of Japan from 1192 to 1199. In 1187, Nagakiyo performed Genji-style Yabusame at the Tsurugaoka Hachimangū Shrine in Kamakura.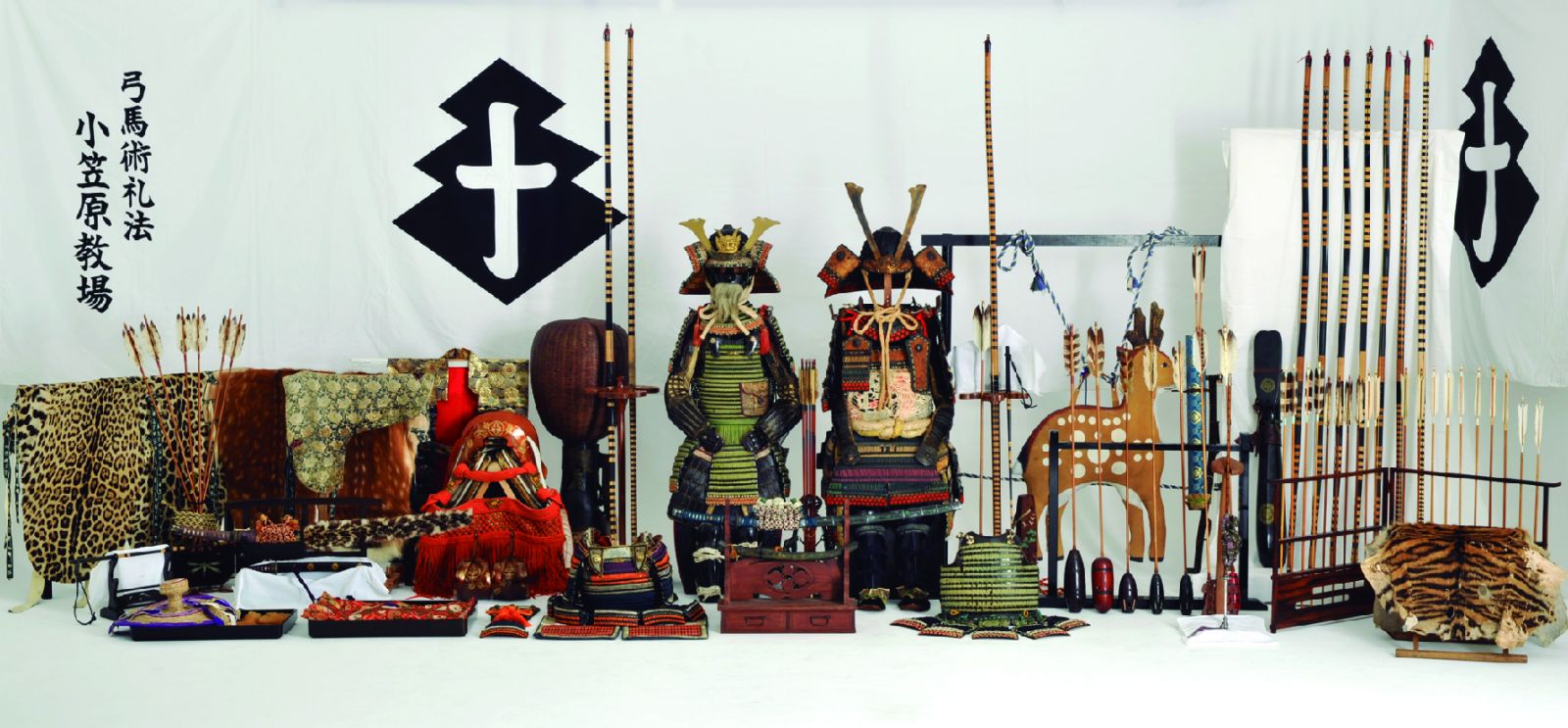 The role of instructor of Kyū-hō for the shoguns' families, the rulers of samurai society, has been passed down for generations in the Ogasawara family. When samurai society came to an end due to the Meiji Restoration at the end of the 19th century, the Ogasawara-ryū School opened its doors to the general public. Since then, in order to preserve the sacred nature of Kyū-hō teaching they have strictly observed their family discipline: "One should not make a living out of teaching Kyū-hō". Together with his followers, the present 31st generation Grand Master, Ogasawara Kiyotada, performs etiquette, archery and Yabusame rituals throughout Japan while maintaining a completely separate professional life. He is dedicated to passing on the tradition of the school in line with the needs of the time. One such effort is to modernize the school's organizational structure through incorporation as a foundation in 2010. Kiyomoto Ogasawara continues to share the traditions of the Ogasawara-ryū, both in Japan and internationally, while working professionally as a Ph.D R&D researcher of a Pharmaceutical company in Japan.  www.ogasawara-ryu.gr.jp