2019 Japan Foundation Japanese Teaching Methodologies Program - Summer Course
Hang Hoang - North Carolina Public Virtual School
The 2019 Japanese Foundation Teaching Methodology summer course was held in Urawa, Saitama, Japan. The program consisted of 36 teachers from 26 countries. It was a six-week program centered on Japanese teaching methodologies and cultural experiences. I was lucky to be chosen to participate in the program.The training was very inspirational and energizing. It gave me lots of ideas and new knowledge. The teacher and other participants were amazing and I learned a lot from their experience and insights.
PHOTO: 36 members and the Urawa Japan Foundation Staff
Classes 授業
The classes consist of the following topics :
-Second language acquisition and strategies that support second language acquisition and development
-Strategies that support Japanese Language Teaching and learning
-Methods of teaching speaking, reading, writing, listening, vocabulary and culture
-Evaluation and Assessment Strategies
-Culture experience trips
The classes were centered about the Japan Foundation standards which are
"Competence in accomplishing tasks: the ability to use language to complete specific tasks. Competence in intercultural understanding: the ability to understand and respect one's own and other people's cultures"*. After classes, we worked in teams to design lesson plans that reflected the standards as well as evaluate our own teaching.
JP STANDARD TREE
Here are some pictures of me and my classmates with our teachers.
Culture experience 文化体験
We were able to go on many excursions that also enriched our understanding of Japan and Japanese culture. Here are some pictures we took during the activities.
PHOTO: Trip to the TEPIA ( Association for Technology Excellence Promoting Advances)
TEPIA is a place where you can learn about Japan's most advanced technologies. We were introduced to the exhibition of the latest advanced technology such as machinery, information technology, new materials, biotechnology, energy, etc. I found the Manga Generator the most interesting. The Manga Generator is a device that uses motion picture technology to read the movements of a person and instantly creates a manga! It you want to create a manga with you in it, you just have to pose in front of the camera, and your image will be projected on the wall as part of a story.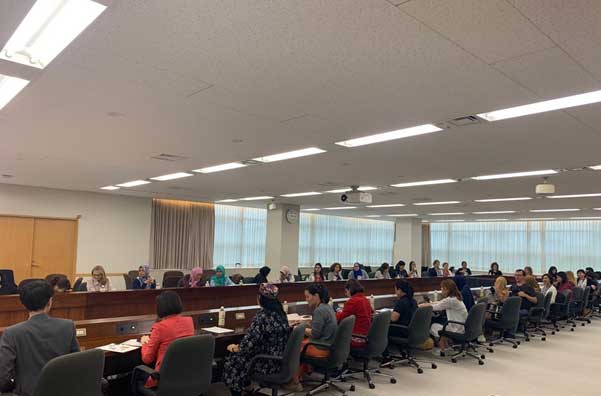 PHOTO: Trip to the Seven Eleven Headquarter in Tokyo
We had a chance to learn about the company's history. We talked with both foreign employees and Japanese employees and found out that the company has created a very open-minded environment for its employees.
PHOTO:Trip to the Edo windchime factory 江戸風鈴
We were so excited to watch the masters blow glass windchimes. Edo furins are all hand-made one by one. Each furin has a different sound even though they have the same shape and pattern. Also, to improve sound quality, the edges are intentionally left un-smoothed. The best part was that we created our furins with the help of the masters and put the designs we wanted on it..
PHOTO: Yukata wearing practice
We had a chance to pick a yukata and obi of our choice. We learnt how to wear a yukata and obi under a teacher's supervision. We tried them on, and then, the teachers put the finishing touches.
PHOTO: Kabuki lesson
We watched the "Secrets of Calligraphy" ( 菅原伝授手習鑑) and 棒縛り
I was impressed with the performance. Kabuki is hard to understand, but there was a short lecture explaining about the Kabuki makeup, exaggerated gestures and body movements to express emotions, music, kyogen, etc.,that helped us grasp some ideas of kabuki.
PHOTO: Trip to Tokorozawa High school ( screenshot from the school's website)
http://www.tokorozawa-h.spec.ed.jp/?page_id=188
We met with the school's students, teachers and staff. We talked a lot and found out a lot about Japanese school life. The students asked a lot of questions about education in America as well. They are interested in America as we are interested in Japan. We were also guided around the school's facilities.
Independent Study 自習研修
This was my favorite time. We had every Friday afternoon free to do whatever we want to do.I used almost all of the time to do my research on the bento culture, young people fashion, katakana usage, food culture, rush hours and matsuri etc., I took a lot of pictures and videos which I plan to use as namakyouzai ( 生教材) for my classroom.
I would like to say thank you to the Japan Foundation, Los Angeles, the North Carolina Virtual Public School, as well as to the wonderful teachers and expert staff at the Japan Foundation Japanese-Language Institute, Urawa for supporting me before, during and after the program. I love Japan and definitely will let my students know that Japan is the greatest country on earth, where I always want to come back to visit.
Citation:
*The JF Standard for Japanese-Language Education
https://www.jpf.go.jp/e/urawa/e_rsorcs/dl/jfs2015_pamphlet_eng.pdf