Special lecture event
Artist Talk: TAKAHASHI

HIROKO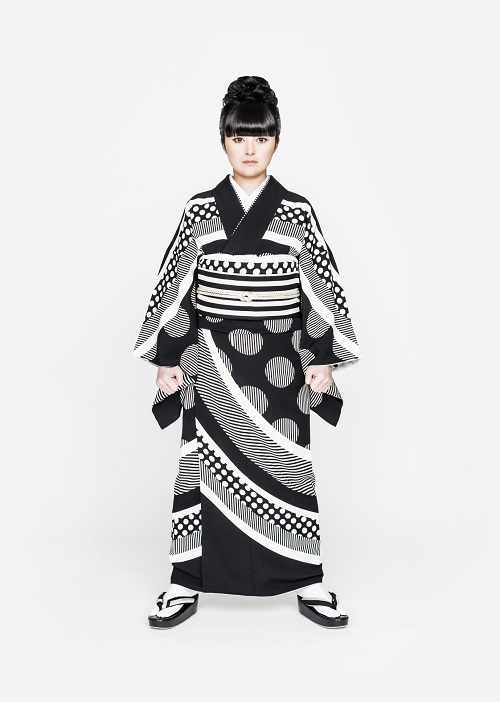 Sunday, February 12 2pm-3pm



Loucks Auditorium, Salem Public Library
(585 Liberty St. SE; Salem, Oregon 97301)
Monday, February 13 12:45pm-2pm



Centrum Studio, Oregon College of Art and Craft
(8245 SW Barnes Road, Portland, Oregon 97225)
Tuesday, February 14 3:45pm-5:00pm



Forum Auditorium, Otis College of Art and Design
(9045 Lincoln Blvd., Los Angeles, California 90045)
*All events are free*
As an artist with an academic background in the areas of Japanese traditional craft, dyeing, weaving and other handicraft techniques, Takahashi has worked with numerous artisans and has raised traditional craftwork to a whole new level with the intricate geometric patterns that are unique to her work and are created from using only lines and circles. Takahashi uses kimono as an expressive medium for her art and in doing so has put a new spin on the traditional garment.  
On February 12th, Takahashi will introduce her innovative style of kimono production which combines traditional practices with original, unconventional designs comprised of geometric patterns that are unique to her work and are created from using only lines and circles.
On February 13th and 14th, she will take us behind-the-scenes to discuss her creative process, how to communicate to a creative counterpart to overcome technical issues, obstacles, and challenges with her creative philosophy "overturning fixed ideas and provoking new ways of thinking".
About the artist:
Born 1977. An artist active in many fields through the use of unique patterns constructed out of only circles and straight lines. Having attended the Tokyo University of the Arts, she has studied Japanese traditional crafts, especially dyeing, weaving and traditional handicraft techniques, going on to obtain a PhD. The works that symbolises her artistic philosophy, "PORTRAIT" is a series capturing in photographs the artist herself standing firmly with her legs apart* clothed in her kimono. Along with the concept to overturn fixed ideas and creating the trigger to think, the work represents the position of facing and confronting the very essence of familiar things. At present, her endeavours include using the kimono as an expressive medium, being involved in production as well as manufacturing with factories and craftspeople who practice traditional craft in various parts of Japan while also presenting her artworks to viewers regardless of the grounds being domestic to Japan or overseas. She also takes part in many collaborations with a range of corporates and production districts; her expressive activities are diverse. 
*The posture in above photo is called 'Nioudachi', the way in which the two deities that protect the dharma stand. Often seen as a pair of statues found at entrances of temples.
Event presented in partnership with Otis College of Art and Design, Oregon College of Art and Craft, Salem Multicultural Institute & World Beat and Japan-America Society of Oregon