JFLA Lecture Series 14
new visions of japanese studies at ucla
EVENT REPORT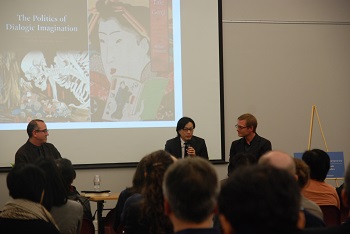 What does it mean, today, to devote an academic career to the study of Japan? This and other questions came to the fore last month when UCLA professors Katsuya Hirano and Professor Michael Emmerich gave a public talk at the Japan Foundation, Los Angeles. Both have newly joined the faculty of the school's Paul I. and Hisako Terasaki Center for Japanese Studies, appointments enabled by a three-year $150,000 grant, totaling $450,000, from the Japan Foundation. After an introduction by architect and Terasaki Center Director Hitoshi Abe, with questions and moderation provided by Associate Director Seiji Lippit, Hirano and Emmerich discussed their recently published books, how they came to the field of Japanese Studies, and how they conceive of the field's substance and relevance in an era when Japan itself has long passed the time when its postwar bubble economy set off a wave of international interest in the country and its culture.
Despite its recent years of lower global profile, Japan still offers a rich subject to anyone engaged in social, historical, and aesthetic research. Hirano and Emmerich demonstrated this by telling us about the new scholarly volumes they've published. Hirano's The Politics of Dialogic Imagination: Power and Popular Culture in Early Modern Japan examines the regulation of street-level popular culture in Edo (today's Tokyo) as aggressively attempted by Japan's mid-19th-century Tokugawa shogunate just before the radical modernization of the Meiji period. Emmerich's The Tale of Genji: Translation, Canonization, and World Literature looks a bit further back to tell his story, the story of Japanese literature's — and indeed, world literature's — very first novel, focusing on its variously modified versions published from the 1830s all the way to the 1950s, giving special attention to the bestselling ribald adaptation and parody Nise Murasaki inaka Genji (A Fraudulent Murasaki's Bumpkin Genji).
Hirano described his adolescence amid the Japanese bubble of the 1980s, and that society's "enormous optimism" which he and many of his fellow students, tormented by its attendant "intense competition," didn't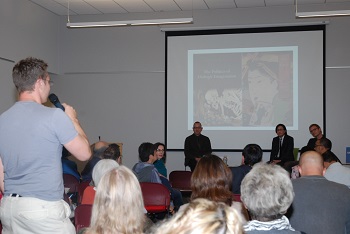 share. Troubled by what he saw as his culture's "complacency" in the present, he turned his attention to its past. The American-born Emmerich told of coming to Japanese Studies in a "random way," which began with a childhood vow to learn seven languages, one to speak each day of the week. As early as fourth grade, he decided to make Japanese one of them, a choice that offered a "conveyor belt away from what I knew." In conversation about the future of their field, both professors showed their own kinds of optimism, though felt for different reasons.
Hirano spoke of the "crucial moment" historians now face, the time having come to stop looking at the events of the past from the traditional but too-limiting framework of nations, considering instead the "movement and circulation, of ideas, people, and goods." Emmerich, admitting that he "sees things differently," thinks modern Japanese Studies, according to the academic mission of "preserving a space for 'uselessness'," would do to pursue ostensibly obscure or esoteric subjects: "You never know," he said, "when the stuff that 'doesn't' matter will matter." And both made a point of how much they've already learned from their young UCLA students, given the savvy they've shown about vast swaths of Japanese culture, especially recent popular culture, into which they themselves had never looked deeply. Many of them will no doubt go on to take the field in directions that nobody — not in the Meiji period, not after the Second World War, not in the bubble, and not now — could predict.
Co-organized by