JFLA Lecture Series 13
Washi: Infinite Ideas in Traditional Techniques
EVENT REPORT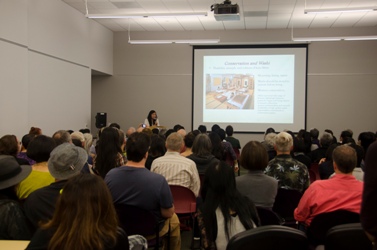 "So why do they call it 'rice paper'?" one audience member asked. The answer came from a particularly authoritative source on the subject: the brothers Hironao and Osamu Hamada, makers of traditional Japanese paper and grandsons of paper-making Living National Treasure Sajio Hamada. The misnomer "rice paper," Hironao explained, doesn't reflect anything about the actual ingredients or procedure for creating traditional Japanese paper, or washi. That we had already learned, of course, from the presentations just seen: a lecture on the history of papermaking in Asia from Yona Warmin, director of Hiromi Paper Inc., and a documentary shot in the Hamadas' hometown, and the thousand-year home of washi, Ino-cho in Japan's Kochi prefecture. The latter revealed, in the actual workshop used by the Hamadas, every single step of Hironao's own process for creating his signature paper — all of them rice-free.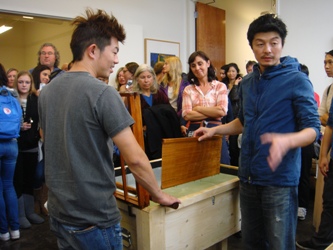 We would learn this even more vividly from the live papermaking demonstration the brothers would then give in the offices of the Japan Foundation, Los Angeles. They'd come to the city to begin a four-stop tour through California, New Mexico, and Utah, showing American audiences what it means to carry the legacy of artisanal papermaking into the 21st century. The evening taught us not just the how of washi, but the why of it in our age where industrial technology provides us with a seemingly limitless amount of a seemingly limitless aesthetic variety of paper. Confronting the declining demand for traditional Japanese paper at the International Paper Conference of 1983, the representatives of washi decided to turn toward collaborations with artists, with an eye toward making paper as artistically, and as much the product of human mastery, as the works of art it would ultimately find its way into.
But this mastery takes much to attain. Asked by someone else in the audience what they would have done in life had they not followed their grandfather, Osamu said he might have chosen a less time-consuming pursuit that would allow him more chances to go fishing. Hironao mentioned his own lifelong love of food, even after his intensive past decade of papermaking. After ten more years making washi, he joked, he could finally switch to making food. Perhaps the notion of "rice paper" comes from the centrality of rice to Japanese culture, or at least from Japanese food culture?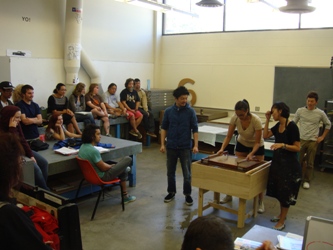 Certainly washi itself once had not just a central place in Japanese art culture, but Japanese culture in general. But this latest phase of washi's evolution, one that has freed craftsmen like the Hamada brothers from the demands of the many, lets them explore the possibilities of new ideas and new technologies as yet untried in their medium's ten-century lifetime. Learning how best to execute them obviously has its trials, but it also has its pleasures. "In a way, I become half-human, half-machine", said Hironao as he showed us his techniques. "This releases me from all emotion, and from all reason."
---
JFLA Lecture Series 13
Washi: Infinite Ideas in Traditional Techniques
Experience the living heritage of Japanese craftsmanship through washi, the verdant nation's supple and durable paper now used in art and art restoration worldwide. Young master artisans take up this rich tradition of papermaking, as brothers Hironao and Osamu Hamada demonstrate their treasured techniques and the infinite possibilities of washi.
Date: Thursday, September 19, 2013 @ 7:00PM
Speakers: Master papermakers Hironao Hamada and Osamu Hamada,
Yona Warmin-Hiromi Paper Inc.
Venue: The Japan Foundation, Los Angeles
(5700 Wilshire Blvd. #100, Los Angeles, CA 90036)
Admission: EVENT IS FULL
Street parking is available near JFLA. Click Here for Parking Info
The Japan Foundation, Los Angeles (JFLA) invites master washi (Japanese paper) papermaking brothers Hironao and Osamu Hamada from Kochi Prefecture to the United States, in partnership with Hiromi Paper Inc. (HPI), the Kala Art Institute, the Church History Library, and the University of New Mexico, to give lectures and demonstrations on a four-city American tour through Los Angeles, Berkeley, Salt Lake City, and Albuquerque.
In this two-hour program, Yona Warmin of Hiromi Paper Inc. will explain the history, uses, and many varieties of washi. Hironao and Osamu Hamada will demonstrate their traditional papermaking techniques, sharing their latest innovations and ideas of washi in the art.
Hironao Hamada
Upon completing his apprenticeship with his grandfather Living National Treasure Sajio Hamada in 2011, Hironao now carries on the tradition of the "Wing of the Mayfly" Tosa Tengucho, said to be the world's thinnest paper, as a 4th generation paper maker. Along with traditional papermaking, he now explores new possibilities for Tengucho and other varieties of washi, collaborating with artists and designers and exploring inkjet printing on Tengucho. In addition to its use in a variety of artwork, his Tengucho is often used in restoration of paintings and other art pieces, including the restoration of books and ukiyo-e prints at the Museum of Fine Arts in Boston, and of Michelangelo's Sistine Chapel ceiling.
Osamu Hamada
Osamu entered into the world of papermaking in 2005 with his apprenticeship in Mino Washi. He now uses his own unique method of the "rakusui" water technique to make handmade lace papers. Along with producing rakusui paper, Osamu also produces handmade high-quality papers for art restoration upon request from domestic and foreign conservation studios. He also receives requests for heavyweight handmade papers for fine art.
Yona Warmin
Director of Hiromi Paper Inc., a Japanese paper retailer that has been providing fine quality Japanese handmade paper to artists, conservators, designers, and bookmakers in the U.S. for more than 25 years.
Tour schedule:
September 21 (Sat 11am-1pm) - Berkeley, CA: Kala Art Institute
September 23 (Mon 1-3pm) - Salt Lake City, UT: Devereaux Mansion

September 24 (Tue 12-2:30pm) - Albuquerque, NM: University of New Mexico

Co-organized by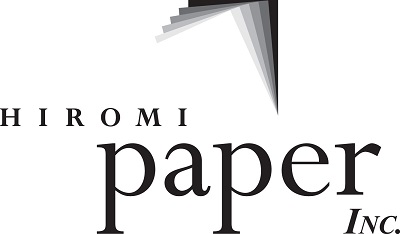 Supported by