JFLA Lecture Series 12
World of Deadly Valor and Tempered Beauty:
The Japanese Sword Paradox
EVENT REPORT
Sword-bearing samurai haven't walked Japan for 140 years. So why do over 300 active Japanese swordsmiths still hone their craft so tirelessly? To explain this traditional Japanese weapon's relevance to a more peaceful modern society, master swordsmith Kunimasa Matsuba came to the Japan Foundation, Los Angeles to clear up the many myths circulating about Japanese swords today, to tell us what drives him to perfect his art, and to show us his skill with the swords themselves. First, a video presentation filled us in on Matsuba's journey: his training in the martial arts, his instant fascination with the swordsmith from whom he first commissioned a sword of his own, that swordsmith's unusual offer to take him on as an apprentice, and the grueling 365 days a year he spent at the forge in a barn, inching ever closer the swordmaking ability of which he dreamed.
This period, Matsuba said, filled him with "indescribable frustration." And even after ten years of practice, he still went into a slump, unable to attain the quality of craft which had once seemed to him not so far away. But he persisted, trusting in the very physical process of the swordsmith to carry him through: "I wasn't fortunate enough to be born a genius," he explained, "so I just relax my mind and let my experiences flow out, using my discipline." Fortunately, he had already spent considerable time and energy cultivating just this virtue in the martial arts he practiced before dedicating himself to making swords. But these two pursuits have much more in common, he explained, than merely requiring discipline: even many weaponless martial arts have their basis in the techniques originally developed by samurai, who, even when doing battle hand-to-hand, never went without their swords. He executed several martial-arts moves for us while wearing not one but two weapons, highlighting how samurai themselves would have first performed them.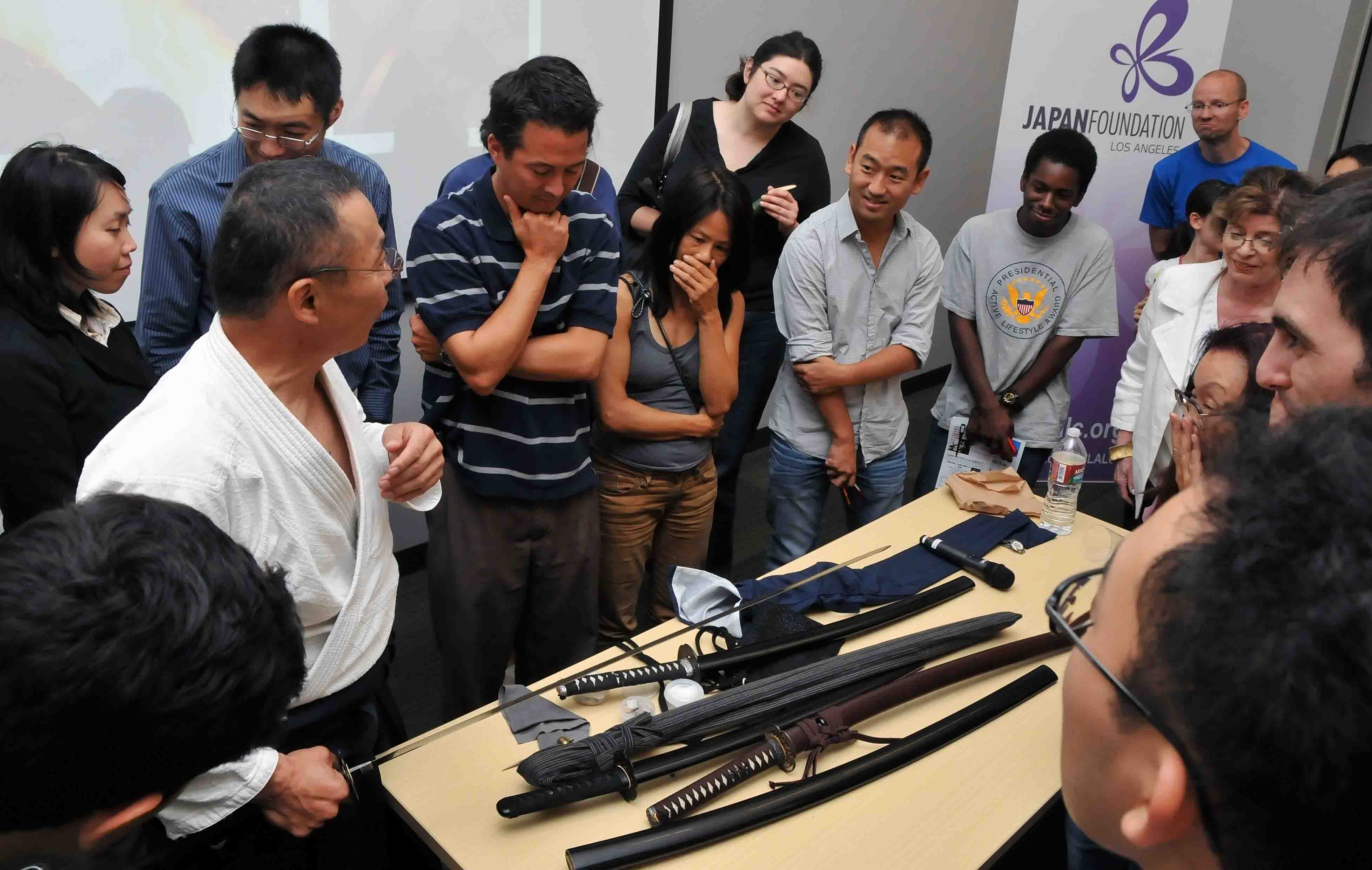 As Matsuba's mastery of martial arts has strengthened his understanding of swordmaking, his mastery of swordmaking has also strengthened his understanding of martial arts. But he didn't just state this, nor did he only discuss the theory behind his life's dual work. "You all look a little bored," he said just before bringing out the bamboo on which he would demonstrate the practice, slicing in different styles, with different grips, and in different directions, always with great confidence and speed. He asked an audience member to hold on to the final shoot; the man did so, somewhat nervously, as Matsuba, in a state of intense concentration, rapidly cut it into a dozen pieces. The swordsmith took pains to emphasize that, having transcended its use as an actual weapon, the traditional Japanese sword has become an art object. "If you just want to cut," he insisted, "you're wasting your money." And if you do use one of them to cut, prepare yourself for the $4000 cost of sharpening, a service only available from another artisan who's also spent over a decade mastering his craft. But if you seek pure beauty, look no further than Matsuba, whose dedication has finally earned him, for three years straight, the title of number-one swordsmith in Japan.
---

JFLA Lecture Series 12
World of Deadly Valor and Tempered Beauty:
The Japanese Sword Paradox
Master swordsmith and martial arts expert Kunimasa Matsuba to delve into the elusive character of
Japanese swords
Date: Tuesday, September 3, 2013 @ 7:00PM
Speaker: Master Swordsmith Kunimasa Matsuba
Venue: The Japan Foundation, Los Angeles
(5700 Wilshire Blvd. #100, Los Angeles, CA 90036)
Admission: Free

Note: Lecture only; no performance or demonstration.
Street parking is available near JFLA. Click Here for Parking Info
On Tuesday, September 3, 2013, the Japan Foundation, Los Angeles (JFLA) will host master swordsmith and martial arts expert Kunimasa Matsuba to talk about the place of Japanese swords and martial arts in contemporary society, including the history of these weapons, the philosophy of their craft and use, and their intrinsic beauty. Powerful, flexible, and subtly beautiful, Japanese swords have evolved with the society around them for hundreds of years, and continue to be revered as representative images of the warrior spirit of bu. In this lecture, Matsuba will discuss the essential paradox of an ancient and deadly weapon in a peaceful society, and the enigmatic place of a modern swordsmith in between art, craft, and weapon.
Born in February 1959 under the abundant sunshine of Miyazaki Prefecture that would propel his training from a young age, Matsuba is a master swordsmith who has won numerous awards for his craft since he began exhibiting his contemporary Japanese swords. At the same time a talented expert of martial arts, Matsuba holds black belts of the sixth dan in aikido and of the fifth dan in kendo, and gives lectures and demonstrations around the world, notably in the United States and Europe.