JFLA Lecture Series 8:
Curators' View - Japanese Contemporary Photography
EVENT REPORT
by Colin Marshall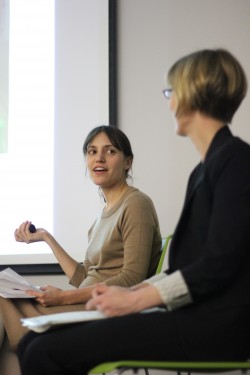 After a nine-day trip to Japan, young Los Angeles curators Britt Salvesen and Amanda Maddox paid a visit to the Japan Foundation to give us their impressions of the country and the art it produces today. Salvesen, Curator and Head of the Photography Department at the Los Angeles County Museum of Art (LACMA), and Maddox, Assistant Curator of Photographs at the Getty Museum, traveled with the Japan Foundation's Japan-U.S. Curator Exchange program, designed to give American curators first-hand experience in the Japanese art world. The two ladies thus found themselves dealing with (but enjoyable so) a schedule packed with stops at museums, galleries, conferences, and even homes and studios. Then they faced another challenge: compressing all they'd seen of and learned about Japanese art culture into one evening's talk.
Through their photographs and stories, they retraced their path through, among other venues, the Tokyo Metropolitan Museum of Photography, the National Arts Center, Tokyo and Kamakura's branches of the Museum of Modern Art, Tokyo's Museum of Contemporary Art, the Mori Art Museum, the Obayashi Collection TOTO GALLERY・MA, and Museum Haus Kasuya. They showed diverse Japanese artwork including Otsuka Chino's digital insertions of her adult self into childhood snapshots, the hidden video art of the Los Angeles-based Koki Tanaka, work from Pritzker-winning architect Toyo Ito from the Venice Biennale, glitch projections by experimental musician Ryoji Ikeda, and a mechanical, half-organic-looking creature from a popular reality-television art competition. They even saw striking pieces by non-Japanese artists, such as video sculpture by Nam June Paik, and delighted in the memory of lunch at "a truck stop with the most amazing food."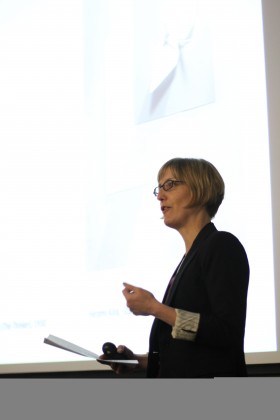 Salvesen and Maddox ended with separate short talks about the Japanese art we can now see at their respective museums. Maddox presented the lives and careers of Hiroshi Hamaya and Kansuke Yamamoto, the two twentieth-century photographers whose strikingly different images make up the show "Japan's Modern Divide," at the Getty Center until August 25. Salvesen briefly introduced the Japanese artists in LACMA's collection, including multimedia creator Yayoi Kusama, appropriation artist Yasumasa Morimura, and well-known photographers Miyako Ishiuchi and Daido Moriyama. The curators promised to tell us more if we pay their exhibits a visit, and I, for one, plan to hold them to their word.
---
EVENT INFORMATION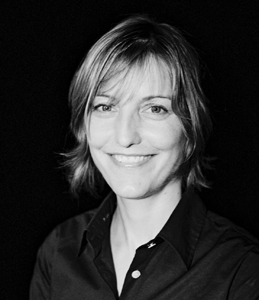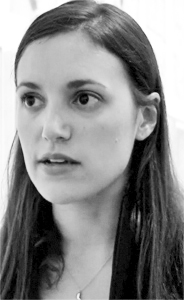 Date: Thursday, April 18th, 7PM
Venue: JFLA Auditorium
Program
On Thursday, April 18, 2013, The Japan Foundation, Los Angeles (JFLA) will invite Ms. Britt Salvesen, Curator and Head of the Photography Department at the Los Angeles County Museum of Art (LACMA) and Ms. Amanda Maddox, Assistant Curator of Photographs at the Getty Museum, to talk about their recent experiences as part of the Japan Foundation's Japan-US Curator Exchange Program in Japan. In this lecture, Ms. Salvesen and Ms. Maddox will share their experiences from this program, as well as their analysis of distinguishing trends in contemporary photographic arts both in Japan and in the US.
Now in its fourth year, the Curator Exchange Program facilitated by the Japan Foundation is an opportunity for curators of America's major art museums to deepen their understanding of Japanese art by interacting with researchers and artists in Japan. This year's symposium, held in January, brought Ms. Salvesen and Ms. Maddox together with several other photography experts and curators from the US and Japan.
Ms. Salvesen is head of two departments at LACMA: photography and prints and drawings. A historian of modern art and photography, she has experience at the Art Institute of Chicago, the Milwaukee Art Museum, and the Center for Creative Photography at the University of Arizona, where she served as Director and Chief Curator. She holds a master's degree from the University of London's Courtauld Institute of Art and a Ph.D. in Art History from the University of Chicago.
Ms. Maddox specializes in 20th century American and European photography. She is currently co-curating an exhibit entitled "Japan's Modern Divide: The Photographs of Hiroshi Hamaya and Kansuke Yamamoto," on display at the Getty Center until August 25.