Photo Exhibition
Metamorphosis of Japan After the War

Dancers resting on the rooftop of the SKD Theatre. Asakusa, Tokyo
The Foundation is delighted to present the photo exhibition Metamorphosis of Japan After the War. It is with great pleasure that we introduce the work of 11 photographers who captured images of postwar Japan from 1945 to 1964. The exhibition takes place at West Los Angeles College Art Gallery from June 12 - July 11, 2015.

Metamorphosis of Japan After the War
Exhibiting Photographers:
Ken Domon, Ihee Kimura, Hiroshi Hamaya, Tadahiko Hayashi
Shigeichi Nagano, Ikko Narahara, Kikuji Kawada, Shomei Tomatsu
Yasuhiro Ishimoto, Eikoh Hosoe, Takeyoshi Tanuma

Exhibition:
June 12 - July 11, 2015

Exhibition Hours:
Tuesday-Saturday 12:00pm-6:00pm
Closed on Sundays, Mondays, Independence Day

Venue:
West Los Angeles College Art Gallery
(9000 Overland Ave., Los Angeles, CA 90230)

Free Admission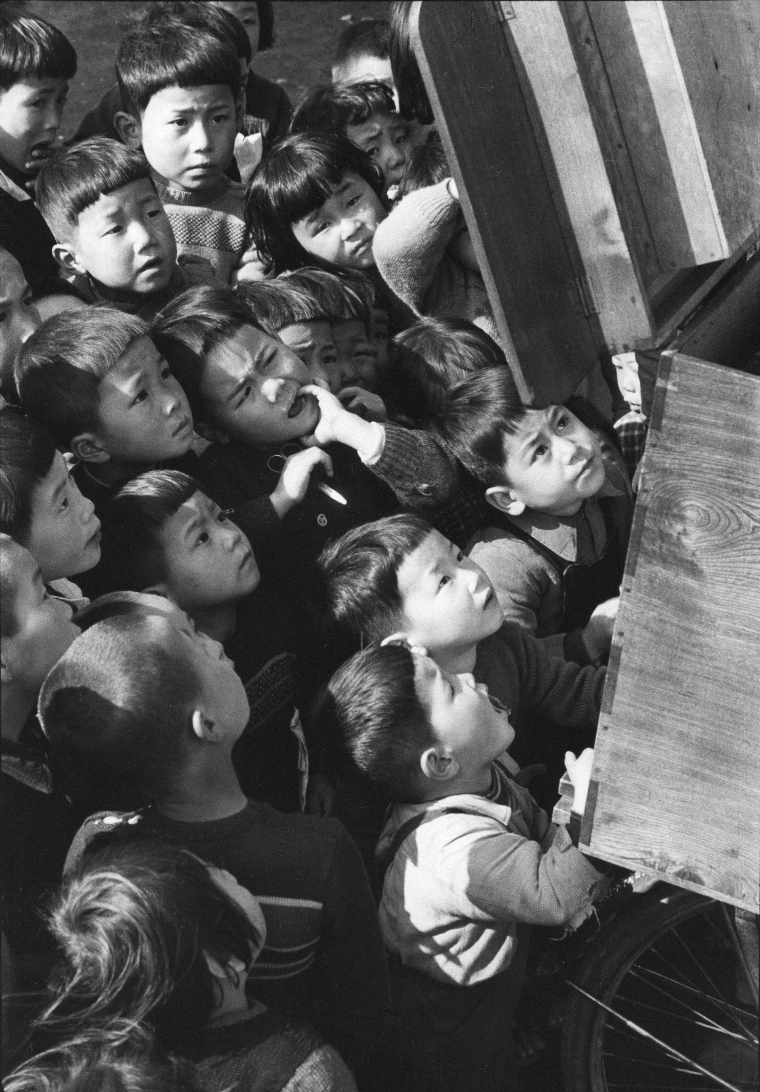 In 1945, Japan made a new start as a defeated and devastated country after WW2. However, after only 20 or so years, the nation's society, economy, and culture underwent dramatic transformations. It is difficult to specify precisely when the postwar period ended, but for the purposes of this exhibition, we define the "postwar" era as the period from the end of the war in 1945 to the year of the Tokyo Olympics, 1964. The 11 photographers introduced here were each active in this period of dramatic upheaval. Their work records the transformation of society, and many of the photographs that they took are significant from an artistic perspective in addition to being important records.
The photographers selected are Ken Domon, perhaps the best-known Japanese photographer of the 20th century for his cool-headed photo-realism, Ihee Kimura, whose approach to realism was distinguished from Domon's by its unique aesthetics, Hiroshi Hamaya, who photographed the climates and environments of mountain and agricultural villages together with the lives of their inhabitants, Tadahiko Hayashi, who produced marvelous portraits, Shigeichi Nagano, Ikko Narahara, Kikuji Kawada, Shomei Tomatsu, and Yasuhiro Ishimoto, who represent a younger generation of photographers, and Eikoh Hosoe and Takeyoshi Tanuma, who were two of the photographers who demonstrated the creativity of photography. Each of these individuals had his own style, but all produced significant works that are important records of this period.
It is our hope that as viewers enjoy their undeniable attractiveness and power, these photographs will also provide a starting point for thinking about the society of postwar Japan that was their background.
(Photo Upper Left) Children looking at a picture-card show. Tokyo 1953
(Photo Upper Right) Young woman. Omagari, Akita 1953
Organized by
Co-presented by
West Los Angeles College
Kio Griffith [TYPE / ARTRA]